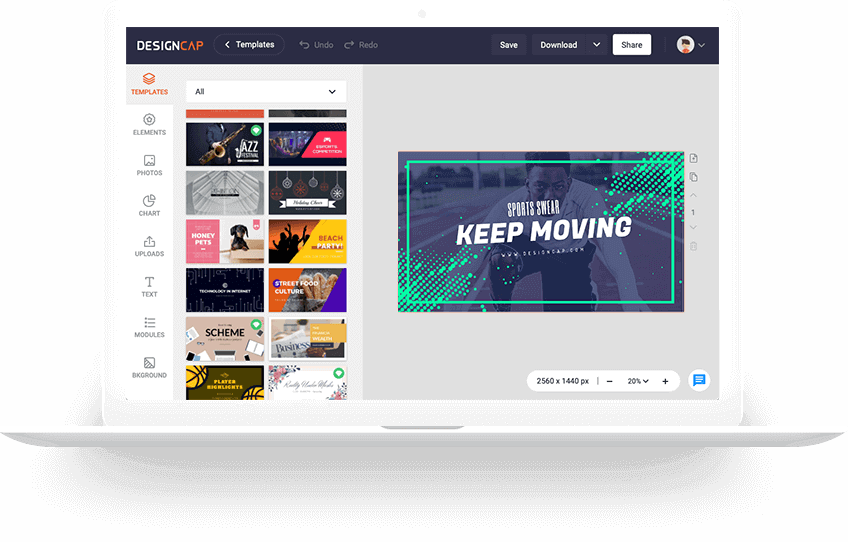 In a time where online graphic design suites pop up daily, sorting through the clutter and figuring out which are worth your hard-earned money can be difficult. DesignCap is a free online poster design software created to help people and organizations of all types and sizes to make attractive and professional-looking posters and flyers easily and quickly. Below is a breakup of what each plan has to offer.
Free plan
Obviously, the Free Plan is free. With it, you have access to a small portion of their templates and stock photo library. You're also limited to just 5 photo uploads and can save just 5 designs in your account. You can delete them when you're done and reclaim the space.
The greatest limitation, though, is the export options. You have one: JPG. For text-heavy images, that's no good. Text looks all blurry and, well, crappy on a JPG. The free account is good for giving you an idea of the overall features and functionality of DesignCap, though. I used it to decide whether I wanted to proceed with a review (because I would never just say yes without knowing that it was worth recommending to you).
Basic Plan
The Basic Plan runs you $4.99 a month when paid annually. With that, you get access to their entire library of templates and stock photos plus all of their modules (more on those in a moment). You can also export in hi-res PNG and PDF.
Additionally, with the Basic Plan, you're allowed to upload up to 100 images and save 100 designs in your account. Again, you can delete those you no longer need to reclaim some space. Unless you're working on a massive project that requires more than 100 images at once, the Basic Plan is fine for most people.
Plus Plan
The Plus Plan costs $5.99 a month when paid annually and gives you all of the same benefits as the Basic with two exceptions. Rather than just 100 image uploads and saved projects, you get 1,000 of each. For $12 more a year, it's worth it to not have to worry about running out of space.
DesignCap Features
Data Visualization
Impressive Templates
Fully Customizable
Simple to use
Online
Large Collection of Custom Elements
Free to use
Competitive pricing upgrading
As a professional designer, I can safely say it does eliminate the need to hire a graphic designer and artists whose services come with a heavy price tag and require a few days to weeks to produce a finished product. It has a very simple interface and great tools for everyone to be able you use.

I absolutely loved the YouTube channel art templates. They were easy to set up and help get my videos up so much quicker